The 'Construction' and 'Expiration' pages are now up and running. As with the rest of the stats, they endeavour reflect the 'True' in-game values. For example, there is no base corpse for the Arm Wind Generator due to a Cavedog scripting error. Yeah, now you know why the Arm ones blow up so easily :P This is reflected in its Expiration page.

I have also modified the metal extractors' 'Metal Make' values, and the wind and tidal generators' 'Energy Make' values to "Variable" because of course these can vary from map to map. Metal maker metal production values have also been fixed, as these are associated with a separate "MakeMetal" tag, rather than the normal "MetalMake" tag by Cavedog. Weird! :)

If you see any other odd things like this that can add to the stats' pages accuracy, let me know :)
- Sunday, 09.12.2007
Wow hard to believe it's been 7 years! I should do something to celebrate! Maybe :P
- Friday, 23.11.2007
In addition to each unit's 'General' and 'Mobility' stats, I have also again made available the 'Weapons' and '3D' data for EVERY unit. The 3D data utilises the very compact 'Cult3d' plug-in. Please Contact me via the forums should you have any trouble with this or anything else on the site :) As usual, further development work is in progress.
- Friday, 07.08.2007
Since my ASP host for the Unit database has died, I have had to upload what PHP ported work I have done. So at the moment only each unit's 'General' and 'Mobility' stats are available. Further development work is in progress.
- Friday, 15.06.2007
Some of you may have noticed I have done a little shuffling of the TA Guides menu to make things clearer. I've also moved the Unit and Map database to a new ASP host which should increase speed and reliability (and save it needing porting to PHP). Currently the ability to add comments is removed. This will be up and running ASAP (required a PHP port). As always, please post me any bugs and questions.
- Tuesday, 11.04.2006
If you have stumbled across this site you have reached the new home of poosticks.net or more appropriately the TA Guide. So stay tuned as the move continues and odds and ends are announced :)
- Wednesday, 11.05.2005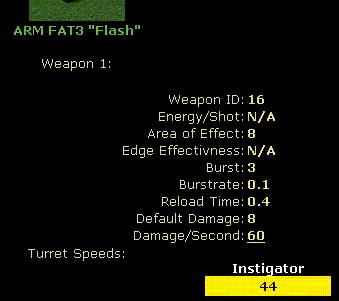 As noted in the forums, I've updated a couple of things. One error, and one feature:
Fixed burst weaponed unit data! Have added "Burst" and "Burstrate" information. Damage/Sec now correct for these units!
Mouseover data for equivalent units in database now working for firefox users.
Hope you few that visit find this useful, and please don't hesitate to e-mail me with any features you'd like added, improved, or reviewed :)
- Tuesday, 8.02.2005
Hi guys. As I no longer get many hits here I will not be spending money to renew the domain poosticks.net. Fortunately this does not mean the demise of the site, which can still be found at So update your bookmarks to avoid loosing it in December.
- Monday, 11.10.2004
Seems to work fine in Firefox now :) And remember to visit the forums! Go and post something today! Show your support!
- Saturday, 28.08.2004
Looks like my host carked it. Back up again. Forgive the slowness ATM. Will try to fix it properly one day ;)

Haven't really got round to the improvements, and a few errors from the TA Guide surfaced which are noted in the forums. Kinda good to see TA still struggling on there but I mostly play BF'42 now, so :P

I would be interested in tidying up a few loose ends here and there, and perhaps prepping for CT's new RTS. I'd be keen on some help, especially if you can program in C and don't mind menial labour ;) So yeah, e-mail me if you want to do a little to help. You never can tell.
- Monday, 09.08.2004
OK, the following poll choices had votes recorded against them. So I will begin finishing off the TA Guide in the following order:
Multi player mode info and advice, tricks'n'tips
Guide to speed up our slow TA
Resource model explanation
Single player mode info and advice, tricks'n'tips
Finish the 3D unit models
Interactive online metal patch build path guestimator
Thanks to all who voted!
- Monday, 17.02.2003
I have posted a poll in the GBL forums so you can vote on what I should develop next in the TA Guide. So go post your votes and have a say in the guides future development!
- Sunday, 02.02.2003
That's right folks, TAG_Rock has announced a tournament with a cash prize pool of $500! Head over to http://rocks500.tagl.net/for all the details. There are 3 player classes so all players are catered for. So get on over there and sign up!
- Friday, 15.11.2002
Anyone remember the old TA Webring? Well maybe it's about time we got something like that again! I have made a thread in my new forums canvassing interest in the idea of a TA Fan-site Banner Exchange. I am quite happy to manage it , but an adequate degree of interest must be shown for it to happen :) So get busy!

In other news, I am also on the lookout for old BY screen shots for my TA History section. I have half a dozen already, but more would be much appreciated!
- Saturday, 5.10.2002
Well a belated one anyway ;) Yes folks, believe it or not, TA celebrated it's 5th birthday yesterday! It was way back on 30th September 1997 that this old game was released. Celebrations occurred, and there was much merriment throughout the community :) For my small part I have finally completed the unit database in my TA GUIDE! You can get all the new news there and a word on future progress :D In the meantime, here are a few little stats for ya's.
The unit database features 8 dedicated pages per unit!
About 270 units are featured!
That's about 2160 pages!
There are 4265 lines of code in the 8 pages!
There are 108 maps featured!
4 pages of data per map!
These include pictures of the metal, rocks, and geothermal layouts!
Only 767 lines of code here
I can't feel my left arm! Is that bad???
Well there we go. Oh, I also have a nice new forum for you all to say something in! You can do it!
- Tuesday, 1.10.2002
Development on my latest map is complete! The new map dubbed Quicksilver is a genuine rushers delight. Its small size and resource rich environment is just ripe for the "Knife fight" style of TA.

While you can read the map notes here, it seems that interesting rewards await those of the patterned persuasion who care to take their time, for the corpses littering the landscape can be resurrected ;)
- Wednesday, 24.7.2002
I have added a small rant of my own to the Ethics section. It discusses the notion of "Smurfing" and it's degenerative effects on the modern family unit (or something like that) ;P
- Sunday, 21.7.2002
The famous makers of the TA Demo Recorder have not let the recent long term 'down time' of TA Universe hold up their latest developments. Recently in the Planet annihilation forums Fnordia revealed screen shots of an "in development" game recorder featuring revolutionary 3D playback mode! Apparently the normal TA window will still exist in the background so all of you low spec machine players can relax *whew* :P

It also appears that development on on a non .units variant of the current TA Demo Recorder has progressed to an advanced stage with final details and bug bashing of the of the fix still being hotly debated!

In the meantime you can catch the SY's 'latest' updates and download all their goodies at http://www.clan-sy.com
- Wednesday, 3.7.2002
Well fair enough question you may ask after a couple of months of no updates! The answer is of course, not much! :o But seriously, while TA has been taking a bit of a back seat to "real life" work, I have been plugging away at a few things in the background. Some of you may have noticed that I have slowly been adding to the technical discussion of the TA resource model in my TA GUIDE. I have also been rebuilding the database with Immerman's new TA Data Viewer II v1.2. Expect about 30% more stats than there are now!

That's all for now, and remember, Keep cool till after school! :)
- Sunday, 16.6.2002
Some of you may be wondering how I dig up all my crazy TA stats. Well one of my main tools has been TA Data Viewer II made by Immerman of Quantum Design fame. He has just updated the program and not a moment too soon! (Expect some crazy new stats here soon :P ) Here's what Immer had to say about his latest release:
"The ultimate tool for viewing TA statistics. You can view comprehensive unit data, list weapons along with composite properties (e.g. damage/second), landscape feature properties, and just about anything else you care to."
The new version includes an improved file parser, and some fancy new data flags (yes it's a smart little sucker) to aid in your eternal quest for TA Trivia.
- Sunday, 24.3.2002
Just like the big blobby thing from that movie the TA Guides Unit Database continues to expand! I have added 10 new stats to the General section and more of course are in the works! I am also constantly improving the format and hope the transition to a 'smart data' format (presenting data only when it exists) will give a cleaner more intuitive look.
- Thursday, 14.3.2002
In a great new move, the Gaming Battle League has released 'GBL lite' This is a tiny program dedicated to TA chat and 'For Fun' games only. Its instant load-up to chat and ultra low demand for my valuable (and very limited :P ) computer resources means that unless I'm wanting to jump into the full blown galactic war experience, it's GBL Lite all the way baby! Check out their site for all the latest details :)
- Friday, 8.2.2002
I am happy to report that I have sorted out hosting and DNS junk for www.poosticks.net and hopefully things should be going good guns now :D
- Thursday, 29.1.2002
As some of you have noticed, I have been able to work on my TA GUIDE as of late. With 8 pages of information per unit I trust you guys will bear with me through development. 5 of the 8 pages are up and running now, and my next task is to build the menus for all the units.
- Friday, 11.1.2002
Hiya's, I have made a few changes to the various scripts around the place. The page should load twice as fast now since the removal of some of the game stats in the margin. Also, the rank calculators have been revised to work more intuitively. BTW I ditched the scody frames too :o

I'm also off for a wee bit of a holiday over new years, so I'll see ya's round soon!
- Friday, 28.12.2001
Yes thats right folks, but this isn't yet another BY successor popping up out of the blue. It appears the UK Based Multi Player Zone has been around for a while and is more akin to Gamespy or Zone in terms of it's variety of games (although is actually web-browser based). But obviously its good to see other gaming services supporting this venerable game.

Thanks to Newsbot3 of GBL's NewsBot Network for this tip!
- Sunday, 16.12.2001
Coming as a relief to most, The Cavedog site has been updated to reflect some of the changes that had outdated it.

The update is reported by Planet Annihilation as being led by Kyle "Pezman" Peschel, and includes an explanation that Boneyards is no more and describes the four major gaming services now host to online TA. In addition the support pages at Cavedog are now directly linked to the Infogrames support pages and a new 'community forum' is now available.
- Saturday, 8.12.2001
As some of you may have noticed some new details have popped up on the site (some quite literally!) With the figuring out of how GSA counts its players I have completed the attendance list of Gaming Services hosting TA. Also, I added the GBL Sector status popup. This however has the bonus of also displaying the highest ranking Arm and Core commanders, choice! :D

Oh and I fixed a typo in my GBL Rank Calculator that had recently knocked it out of commission :o
- Wednesday, 5.12.2001
Hiya's, it has come to my attention that some webmasters feel that they can leech of my hard work without any permission or consultation. One example being a site linking to my GBL rank calculator where the only acknowledgement of my creativity is the note I made in it myself :(

In future folks, please just ask before simply stealing my stuff OK?
- Saturday, 1.12.2001
Well who woulda thought it, TA BY POOSTICKS has been around for a whole year now! And to celebrate I am releasing my (almost) finished TA GUIDE yay!

It has a fair bit of info in it already, and the map database is up and running with the unit databases to follow shortly :) You can even add your own strat's and ideas!

Yes its that button over there somewhere <--------- :P
- Friday, 23.11.2001
Here is a small compilation (168k) of a few changes I have made to my TA rig over the years to make it just that little bit nicer to use. Its basically 3 three simple things:
Adaptation of Dark Rain's TA:M based map GUIi's (Map selection mini-maps are made larger)
Replacement loadscreen picture (yeah the rad Mav one I threw together)
Expanded height resource bars, the original ones look almost illegible after using these. (I am blind, so sue me :P)
While these are simple cosmetic changes, I find the bigger resource bars (below) much easier to see out if the corner of your eye ;)





Original Cavedog resource bars






Poo-Spec bars :P


The file, when extracted into your Cavedog folder inserts sub-folders into your TotalA folder. Thats all there is to it :D
- Friday, 16.11.2001
I have added 'Friction' by Relativity and the 12 'Download only' Cavedog maps :) Hmmm an update a day, I am gonna burn-out at this rate :P
- Monday, 12.11.2001
I have made an online version of the GW points calculator for ya's :P
- Sunday, 11.11.2001
Hiya's! Well I have been playing one or 2 gw's lately and the scoring system was bugging me :/ Figuring out Skill and Victory Points in my head began to hurt. So being lazy I made a little Excel spreadsheet to calculate all the points I was getting :P The GBL Rank Calc V1.2 is now available for like minded lazy dudes :D
- Saturday, 10.11.2001
Yay! GBL has released the much anticipated sequel to the Boneyards gaming experience. Bugs abound as in all betas, but follow the main page instructions and they will be bashed in no time :)
- Thursday, 01.11.2001
Yes! Finally they are coming! Has the wait been worth it? Who will be the first High Commander? Sector Commander? Well the wait is just a few days away, head to the GBL site for the count down and the latest news.
- Friday, 26.10.2001
After a recent post at TAU I was 'inspired' to make some additions and changes to the Ethics section :O
- Friday, 12.10.2001
Hmmm, well I have made quite a few changes around the place as you may or may not see :P

I switched to a frames layout now which seems to have screwed up my little counter thingies. Guess I'll get round to fixing that sometime :o I have also started a News Archive, cause this page just seemed to be getting bigger and bigger, he he. The buttons are also changed round a bit and updated the 'Recommended maps' section. Finally I have removed the TA FAQ section. You can still link to it, but it will not be updated and will disappear sooner or later in favour of my forthcoming TA Guide.
- Thursday, 11.10.2001
Well you'll be pleased to hear I've stopped making up new stuff to add to my new section, but have yet to finish the major sections (I am a crappy database programmer, so sue me :P ). In the meantime here are a couple of completed sections for ya's to gawk at :o

TA Keyboard shortcuts
TA Demo Recorder Keyboard shortcuts

Also I will be changing the whole site to a frames format. If you think this could cause you problems write to me (speak now or forever hold your peace :P ) and we'll see what can be done.
- Saturday, 6.10.2001
Well the new section has been shaping up, and expanding! It has grown into many subsections, and those who have seen previews seem impressed. I have two major sub-sections that need scripting before I'll upload it, but that won't be too far away :)
- Sunday, 23.09.2001
Yep, this is a section I've been thinking about for yonks! (That's 'a really long time' to you country folk =P ) It's going to be a range of guides offering my take on the different levels of game play TA has to offer.

Tip's of course will abound, and animated examples like this 'Kill a shipyard quick - and steal it's metal' example will be used as much as my slow old comp will allow :)
- Thursday, 30.08.2001
Hiya's! Well looks like I have worked up an appropriate sequel to my ol' Flasher AI. I won't go into any details, just grab Poo's Flasher AI 2 here, or hit my downloads page and be ready for a nice surprise ;)

(Read the README to make sure you have installed it right and other bit's and bob's)
- Friday, 17.08.2001
OK, OK. It's been a while (again!) I uploaded a couple more old games for ya's. I also got to thinking (ack!) How bout you guys send me some of your own recordings. But wait theres more, I figure they should be different, not of you '0wning' some newb, or of a good strat or something like that. But more along the lines of 'hey no buzzsaws!...' 'yes! no BB means no buzz...' 'OK, I'll d-gun it...' '[insert name here] has been obliterated...' 'oops - too close.' Well I think you guys get the drift ;) Funny shit, good calls and even jokes. Of course ultra death defying actions shots are good too =D

Just mail me the suckers. I'll look at em all.
- Tuesday, 12.07.2001
Hiya's! Well it has been a while since the last update so I figured something special had to be done. A bit of colour seems to have done wonders for the place :)

Also, the GBL have been very very cool and given me some ftp space!!!! This means that very shortly I'll be sticking many great new recordings and additional tidbits up for ya's to enjoy ;)

See ya's round!
- Tuesday, 06.06.2001
I've just written a Custom loadscreen guide (97k) (including examples) that shows you how to prepare custom loadscreens for your TA! ( Fanciful example (48k) )
- Friday, 13.04.2001
Yeah OK, well I have had no replies for unit info for the TA FAQ which I think sux, although I'll get over it =P I've started adding things myself. Over half of Core's omitted CC units have been summarised and I seem to be adding a few more each day so far.Also in other developments, the GBL gaming service has now released a non-BY reporter version! This means that you can now use the new (though laggy =P) demo recorder there! I'll leave my little utility I made up for a while, as it can easily be adapted to switch between differing versions of TA.
- Tuesday, 27.03.2001
Well the TA community is abuzz with the amazing new demo-recorder released in just the last few days. Amazing features abound! But alas only for those with the non-Boneyards 3.1 patched version of TA. So what if you want to play on GBL and use the new demo-recorder? Well use my solution! Dual installs of TA. Sure it takes up a bit more space, but I've sussed it so that at the click of a button, you can switch the TA version launched by your gaming client =D (true you may have problems hosting, and a non-functioning reporter in GBL, but them's the breaks =P)View my Dual TA guide, and download the Dual TA install.zip (3k) now!
- Friday, 23.03.2001
Yes, I'm afraid so folks =D Cire, and the team at the Gaming Battle League have taken me on board in a TA techo capacity. Make sure you all drop by and say hi! =POn the site updates front, I have started reformatting the TA FAQ. You will notice almost all CC units have missing descriptions! While I could work on these myself, I'd much rather have input from you guys. So, if you have any comments or novel uses for the units described, just mail me by pressing my name =D In addition the recorded games section has been updated as usual (with nice example of my latest strat on Red Triangle - MAV Drop!).
- Saturday, 10.03.2001
OK, I've put up an upgraded online version of the TA FAQ. There have been several changes to format because of this. To reduce the ever increasing number of buttons, I have combined most of the down loadable files in 'Downloads.' The section has its own buttons so scrolling is reduced somewhat.Also, my main page now brings you here. This is because I have the currently "free" domain www.poosticks.net. The banner ad bit will go in a few weeks =DAgain, please mail me with things you want to see on the site, messages of support (am I alone? =P) and definitely additions to the TA FAQ!
- Friday, 02.03.2001
I've been quite busy lately, hence the lack of updates =\ However, I have added a tips file by Andrew Griffin. Unfortunately this was last updated March 7, 1998! There is a heap of good stuff there, but many updates could be made and various units not summarised could be added. Therefore I need your help!Mail me with your views on missing units, and strategies. I have also started work on some extremely useful TA utilities. If you are familiar with visual basic and would like to contribute, drop me a line =D
- Sunday, 25.02.2001
In line with a new push on my part to provide sound advice to newcomers to TA, I have restructured the recorded games section. Games with feature special techniques, strategies, or tricks that impact, or may have impacted on the game outcome are featured.Also, an 'archive game of the week' section, featuring some of my old and somewhat amusing BY games is in place.
- Monday, 29.01.2001
Well with the GBL's decision to run with the Boneyards patch for a while, I have found it a little annoying to keep confirming that 'License Agreement' pop-up all the time. So being the lazy and smart fellow that I am, I made a fix :) I've assembled 4 different ways to launch TA:BY with auto pressing of the button and also removal of the startup movie. Unfortunately poo's speedy BY patch (264k) does not help out with quicker launcher from gaming clients (GBL included), but is good for ip, and skirmish modes.The structure of each patch is very basic and can be easily modified to your wishes. Please read the WARNING READ FIRST.txt first. This explains each launcher type, and you'd be really dumb if you didn't :)
- Wednesday, 17.1.2001
Well I've played with map making in the past to little avail. But I decided to make one designed for interesting game play first and foremost. Lake Arid is a medium sized map (18x8) and is only 1.13 Mb. And great fun for 1v1 and 2v2 games, he he he. Give it a whirl, I'll chuck it on TAMEC sometime soon too. Download it from the downloads section also.Also in the news is the RBB clans Gaming Battle League (GBL). This is a fantastic new BY style gaming service. 1v1 'for-fun' (ff) games are now being played, and the chat is always lively :) Expect GBL guru RBB_Cire and his crack team of programmers and artists to launch full sector gw's in a week or two! Oh my gawd, I'm gonna faint, he he he he :D Check it out in the link above. Also in the works is a weapons data addition to my unit database and one or two other features.
- Thursday, 9.1.2001
I have finally uploaded my unit database. It's just a stats section with a build build hierarchy as well at the moment. I figured I could stuff around forever with macros inside it, so I thought I'd better post what some may find useful right now :) I've also made a minor change to the map database as well. Hope you all had a great Christmas and are gonna party hard in the new year!
- Thursday, 28.12.2000
I have found 'The Art of War' by Sun Tzu at Amazon.com. It is an e-book with lots of good stuff in it! Check it out in my downloads section. After reading this classic tome on warfare you might be able to figure out what Switeck goes on about in his TARDS game reviews :P
- Saturday, 16.12.2000
Well I hate to say it, but I have out done myself! Well OK, thats a bit far :) But I have come up with the daftest thing I have yet managed. Mini TA movies! OK, so it is early days (my first one in fact) but it's looking good :D Check out the screen shots section for this latest amazing development :P
- Tuesday, 12.12.2000
Geez, well I been at it a bit. There is a new downloads section with my new Flasher AI in it (check the screen shots section too!). I have also added a new post to my ethics section about laggers, dam laggers, and me :P
- Monday, 11.12.2000
Well the revised and much expanded unit database is coming along quite nicely. I have also revised and added to my TA shortcuts list in the new Tips'n'tricks section.
- Friday, 8.12.2000
I have added a new tips'n'tricks section to my site. I have a lot of info to stick in it and will get around to putting it all in there sooner or later :) For now I have included my list of TA shortcuts/commands. The rest will have to wait, I'm off to Charlie's Angels :P (Hubba hubba!) :D - Charlie's Angels review: Would you like extra cheese with your babe's? As Steve Austin would say - HELL YEAH!
- Saturday, 2.12.2000
Well it has taken a while, but apart from more 3rd party maps it's done!

Also, I have just posted a new recording where I use hovers on gow, an amazing strat, with all credit to AntimatterHurt for the inspiration! (Ok, so I just copied and embellished :P) Now I just have to get cracking on the unit data base :\ he he ;)
- Tuesday, 28.11.2000
But I did get a great (though big) new recording of the week out of it :)

Map Database V0.85?: Well I have only just figured out what some of the map data actually meant! (many thanks Switeck) So I am including this (and an explanation of what it means :) ) over the next few days.

In a foot note, I have temporarily removed the unit database, I have found that some of the unit data that is stated in the Cavedog ALLUNITS.xls may be quite incorrect, and merely relics of another system they may have been considering to define unit specs.
- Monday, 27.11.2000
I have posted my map database for you all in my stats section. I haven't formatted the CC maps section yet, so its not included today (check back tomorrow :P). It outlines map data I have found somewhat useful and shows upon which maps wind power generation is preferred over solars for quick reference. As always your feedback is much appreciated :)
- Saturday, 25.11.2000
LOL! A miracle even! Big thanks to Screamer for his advice! Yes, I admit it's all bare bones stuff at the moment, but I'll get there :)
- Friday, 24.11.2000
Well, here goes nothing peeps :) Welcome to the 100 acre woods!
- Thursday, 23.11.2000